Protecting against airborne transmission of COVID‑19
September 4, 2020 | by John M. Drake | Forbes.com
This is the second part of a discussion about airborne transmission of COVID‑19. The piece considers how to protect against airborne transmission and what it might mean for the epidemiology of COVID‑19. Read online at Forbes.com.
Risky work: SARS-‑CoV‑2 Infections Among Frontline Health Care Workers
September 1, 2020 | by John M. Drake | Forbes.com
A recent CDC report quantifies the risk of infection for health care workers caring for COVID‑19 patients. Read a discussion by John Drake at Forbes.com.
Is COVID‑19 airborne?
August 31, 2020 | by John M. Drake | Forbes.com
John Drake discusses the evidence for airborne transmission of SARS‑CoV‑2 at Forbes.com.
Two studies show how to control the spread of coronavirus
August 28, 2020 | by John M. Drake | Forbes.com
Two recent CDC reports document the dsuccessful use of "bubbles" for containing local spread of COVID‑19. CEID Director John drake discusses the findings at Forbes.com.
The science behind campus coronavirus outbreaks
August 21, 2020 | by John M. Drake | Forbes.com
John Drake discusses COVID‑19 on College Campuses and the Science of Epidemics Among College Students. Read the complete column at Forbes.com.
The science of reopening: Can testing students work?
August 17, 2020 | by John M. Drake | Forbes.com
As universities across the nation reopen, CEID Director John Drake discusses testing programs instituted by various universities, as well as models developped at Yale and elsewhere to assess the effectiveness of these programs. Read the complete column at Forbes.com.
Five approaches to the suppression of SARS‑CoV‑2
without intensive social distancing
August 3, 2020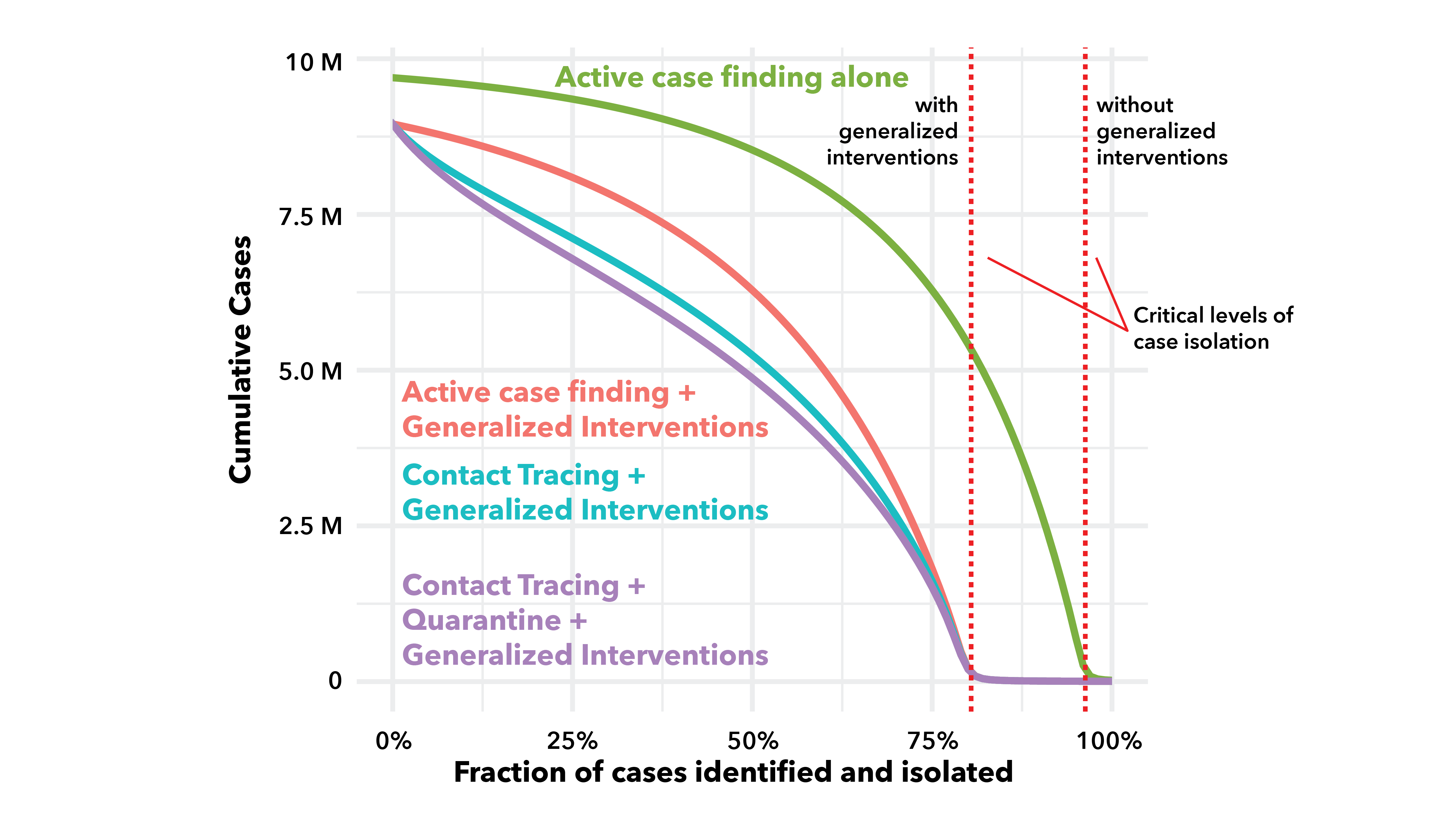 CEID researchers have modeled the effectiveness of generalized and targeted non-pharmaceutical interventions in controling the spread of SARS‑CoV‑2. Generalized policies include limiting large gatherings, wearing face masks, hand washing, enhanced sick leave policies, limiting large gatherings, and other behavioral changes not involving intensive social distancing or shelter-in-place orders. Targeted methods include active case finding, contact tracing, immunity certification, and quarantine. Because non-pharmaceutical policies have disrupted local and state economies, understanding the effectiveness of less disruptive interventions to control SARS‑CoV‑2 is increasingly important. Researchers developed two modeling frameworks to study the effectiveness of targeted strategies in combination with generalized interventions. Results indicated that the four targeted interventions studied are effective. However, generalized methods such as wearing a face mask and reduced densities were determined to significantly improve the effectiveness of targeted interventions.
See covid19.uga.edu/supression for complete details and a link to the preprint.
Surge in deaths associated with COVID‑19
July 18, 2020 | by John M. Drake | Forbes.com
COVID‑19 deaths have now begun to surge following the earlier surge in case reports. John Drake discusses the ten-day average lag between case reporting and deaths and what it means for predicting daily deaths in the near future. Using the lagged Case Fatality Rate (deaths today over cases reported ten days ago), the number of of deaths over the next ten days can be estimated from daily case reports over the previous ten days. For the US, Drake predicts new deaths will hover around 1000 per day, ±500. Read the complete column at Forbes.com.
Four reasons why coronavirus cases are increasing
but deaths aren't—yet
July 8, 2020 | by John M. Drake | Forbes.com
John Drake discusses the discrepancy between numbers of COVID‑19 cases and deaths in the current resurgence of COVID‑19. Drake explores four possible explanations: time lag, improved treatment, increased testing, and changing age distribution. Read the complete column at Forbes.com.
July 7, 2020
CEID director John Drake has joined Forbes.com as a contributor. His column will address general infectious disease ecology and epidemiology, as well as COVID‑19. Read his introductory column: Why Ecologists Study Infectious Diseases And What We Can Learn About Public Health By Studying Nature, published July 7.
Op-ed in The Hill by CEID Director John Drake
America needs a national center for infectious disease intelligence
June 21, 2020 | by John M. Drake | The Hill
In an opinion piece published in The Hill, CEID Director John Drake made the case that the time is now to establish a national center for infectious disease intelligence to monitor trends and provide real-time interpretation of outbreak data through modeling, biostatistics, and data science.
Read the complete opinion at TheHill.com.
John Drake on "Debriefing the Briefing" with Major Garrett
May 7, 2020
CEID Director John Drake discusses how COVID‑19 modeling informs public policy and mitigation efforts on Debriefing the Briefing with CBS News Washington Correspondent Major Garrett.
Listen the podcast here.
John Drake feature article on FiveThirtyEight
Why One Expert Is Still Making COVID‑19 Models, Despite The Uncertainty
April 17, 2020 | by John M. Drake | FiveThirtyEight.com
Read the full article on FiveThirtyEight.com.
New tracker for cases, deaths and hospitalizations
The Center for the Ecology of Infectious Diseases (CEID) and the College of Public Health (CPH) at UGA have created a new interactive tracker that allows users to track the spread of COVID‑19 both in the US and worldwide. The tracker allows users to explore cases, hospitalizations, deaths and number of tests for every US state, as well as cases and deaths worldwide. Users can adjust the plots by choosing total or daily numbers, absolute or normalized values, and calendar date versus date since a certain number of cases occurred. The data comes from the Covid Tracking Project and the Johns Hopkins University Center for Systems Science and Engineering.
Op-ed by CEID Director John Drake
Dr. John Drake urges swift, decisive action to curb spread of COVID‑19.
In an op-ed in the Atlanta Journal-Constitution, CEID Director Dr. John Drake has called for immediate and decisive intervention to slow the spread of COVID‑19. Based on a study of government intervention in China following the initial outbreak of COVID‑19 in Wuhan, CEID researchers found a very strong correlation (90%) between how early a major intervention was imposed in a province and the ultimate severity of the outbreak there. The results show that early action yields critical gains, with every delay of 3.8 days leading to a tenfold increase in cases.
Opinion: Now's the time to act on coronavirus. Guest column. Atlanta Journal-Constitution, March 13, 2020